I'm getting into actually putting together the How-To-Build manual for the Yeoman's Lathe, designed by Pat Delany.
Remember LEGO instruction sheets? No text, just step-by-step numbered panels showing how to build the spaceship/fortress/truck/etc. That's the inspiration for the format of the Lathe How-To-Build.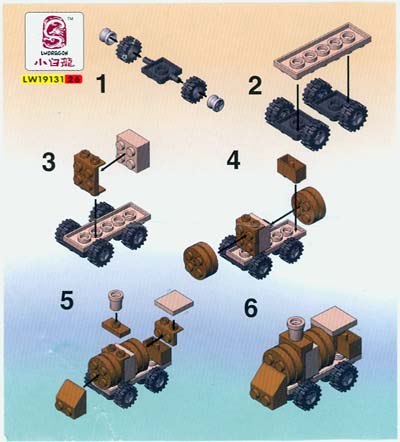 Since we're trying to make this technology as widely accessible as possible, the ideal is to cut text down to an absolute minimum so you almost don't need to be able to read to be able to understand and build the design. It'd be a shame if the instruction manual was locked away in one or a couple languages. Visual instructions are universal.
Below is my first pass, showing the steps for building the form and installing the way jigs and ways. Still some steps missing but the intent is there. Click on an image for higher resolution. What do you think? Can you understand what's going on? Feedback very much appreciated!
There needs to be some steps here detailing how to mix & pour the concrete, and allow it to cure. The next step is way jig and way installment.

Geometry modeled in Google Sketchup 8 Pro, sheet setup in LayOut 3. I'm a little worried that I won't be able to get high enough resolution/vector output from LayOut (attempting to output to vector currently causing LayOut to bugsplat…).
What else is going on in the world of Yeoman's Lathe: we're talking with an Engineers Without Borders student chapter who might be interested in building a prototype of the lathe, which would be amazing! Rob Goodier over at Engineering for Change hooked us up with them, which is fantastic. If anyone else is interested in constructing a prototype get in contact with Pat or I.
The Wiki for the project is here: http://concretelathe.wikispaces.com/
____________________________